Getting best value from your trip to the garden centre
Heading out to the garden centre? Here are my tips for getting best value for money.
I'm writing this with a smile on my face because it's been announced that garden centres will soon be opening after the Coronavirus lockdown. I don't know about you, but I'm tempted to go out and splurge. Before you do though, here are some pointers for getting best value for you money.
Look to the long term
Every garden design and build I'm involved with aims to provide the client with long term value for money. My garden makeovers are about creating spaces that work well in the short term and just get better and better with time.
Good garden design is all about creating beautiful spaces that will get better as they mature
My garden centre shopping list will focus on the future rather than the "now"
When you arrive at the garden centre you'll doubtless be met with a wonderful display of colourful flowers all artfully arranged to encourage you to spend your money. Be strong. Walk past them for now. (We'll come back to them later)
First on my list will be mulch
Not the most exciting purchase but mulching your garden will help ensure a beautiful display of flowers and foliage for the longer term. It will also reduce the amount of watering and weeding you need to do. Both of which are super important if you'll be going back to work in the next few weeks.
Next, a good quality plant feed
Choose a good all-rounder that works well for vegetables, flowers and even the lawn. I personally prefer a granular feed because it's easier to apply. Think about the packaging too – plant food absorbs water from the atmosphere and becomes hard, lumpy and difficult to apply. If you don't have suitable storage boxes at home, choose a feed that comes in its own re-sealable container.
Summer flowering plants
For me, most of the pleasure in gardening comes from watching my work develop into something beautiful. I love to plan and plant a border then watch it come to life bit by bit. It's a great feeling when something you've been waiting for finally arrives. I also love it when plants I've forgotten about surprise me with a splash of colour or a whiff of scent.
Most of those beautiful flowers in prominent positions in the garden centre will finish blooming within two or three weeks and you'll be left feeling a bit deflated. You'll probably head straight back to the shop for something colourful to replace them. That's called clever marketing on behalf of the retailer – a ploy to keep customers spending.
I'm going to be looking for plants that I can pop into the borders now and enjoy later in the summer.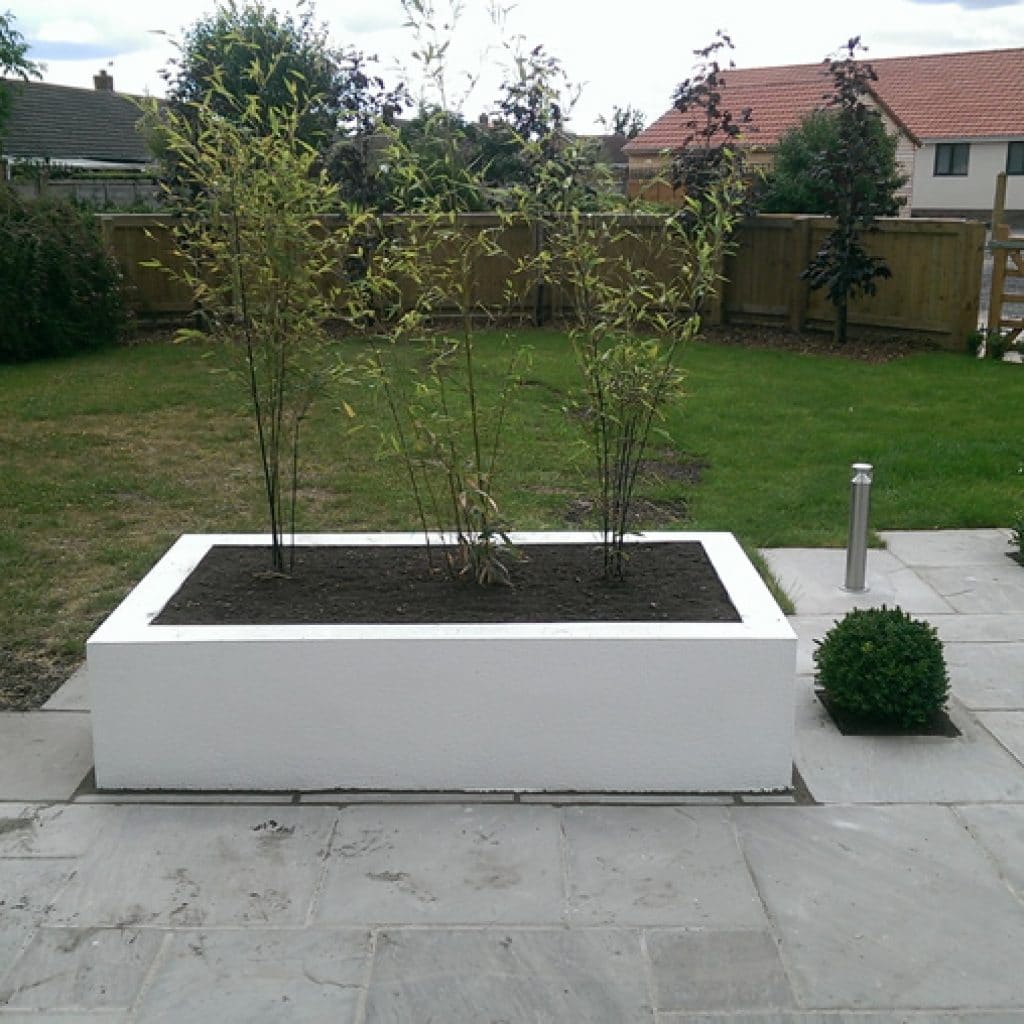 Every plant has a function. These tall plants create a privacy screen and lead the eye away from the view beyond the hedge. Carefully chosen flowers or foliage plants will add more impact.
Summer impact plants to plant in late spring
Verbena boneriensis – mid to late summer flowers that the butterflies adore
Salvia nemorosa – wonderfully richly coloured purple spikes incredibly bee friendly
Japanese anemone – pretty little shade lovers in a range of colours. I like the white ones but they also come in various hues of pink.
Cosmos – look for these among the bedding plants. Paper thin petals that sway in the wind and just keep on performing
Heucheras – the flowers aren't particularly inspiring but oh – the foliage! Wonderful colours to compliment all of your other plant purchases.
Lettuce – why shouldn't your ornamental plants be edible too?
Runner beans – elegant climbers with bright red flowers and later in the year there'll be food
Sweetcorn – tall plants that need to be planted in groups. Very architectural with arching leaves and feathery cases that contain my favourite veg.
Summer flowering bulbs and tubers. These tend to come in packets and are far more affordable than plants. More fun too to watch as they develop. Dahlias, gladioli, crocosmia all in jewel-like colours. Lovely!
Plant up containers for instant impact
If you've still got room in your trolley after buying the essentials, why not treat yourself to a small and colourful project?
Remember all of those bright colours as you walked into the garden centre? Why not choose some to plant up a container? First pick a pot – the biggest you can afford. The larger the pot the less demanding it will be for watering.
Choose at least three different plants that will look great together. Don't forget texture as well as colour. Ornamental grasses look fabulous alongside flowers and feathery foliage. Scented roses could be underplanted with summer bedding or striking foliage plants such as hostas or heucheras.  Trailing plants such as fuschias and ivys add an extra element. A potful of herbs growing near the back door or the barbecue will add a whole new dimension to your cooking. Plus, herbs like basil, mint and lavender are said to deter flies and mosquitos….always a good thing!
When you choose your flowering plants – go for the ones with the most unopened buds. That way you'll be rewarded with longer lasting colour.
Remember to choose some compost too. For pots I always recommend a multipurpose compost unless you are buying things like rhododendrons, camellias or blueberries – these are lime haters and will only thrive in ericaceous compost.
Don't forget to invest in a watering can or a hosepipe if you don't already have one – those plants will need a little bit of TLC to help them settle.
The seeds of some annual plants can be sown outdoors in late spring. Whilst in the garden centre, why not check the seeds section for some great value summer colour?
In summary
Enjoy your trip to the garden centre. Small businesses especially need all the support they can get at this time. However, don't go dizzy. Think carefully, choose wisely and you'll fall in love with your garden all over again when summer arrives.
If your garden needs a bit more help than a trip to the garden centre can supply, you might want to consider a makeover for all or part of your outdoor space. Perhaps your patio is too small or outdated? Maybe you are struggling with a sloping garden or would like more space for working from home?
Contact Silver Birch Gardens to discuss possible changes to your garden. I'm bursting with ideas and would love to help.
Contact Dan at Silver Birch Gardens
You might like these articles
Artificial Grass – time saver or environmental disaster – here's what this garden designer thinks 
Creating interest in a low maintenance garden