Garden Design with Biodiversity in Mind
Biodiversity is a big issue and it's something that garden designers can and should bear in mind when creating spaces. Here are some of the garden design ideas that I aim to incorporate whenever possible.
What does Biodiversity Mean?
Biodiversity is all about the variety of living things within an area. Whether we are talking about a nation, a county, a field or a garden, biodiversity is incredibly important. And, unfortunately it's currently under threat from climate change and by human activity.
In any area, biodiversity refers to trees, shrubs, plants, soil microbes, insects, birds, mammals and reptiles. Even in a small, low maintenance garden, the potential number of different species is enormous, provided it has been designed with biodiversity in mind.
What to include in a biodiversity garden
Areas of dry shade
Water
Trees, shrubs and low growing plants
Woodchip, compost or bark mulch
Habitat enhancing features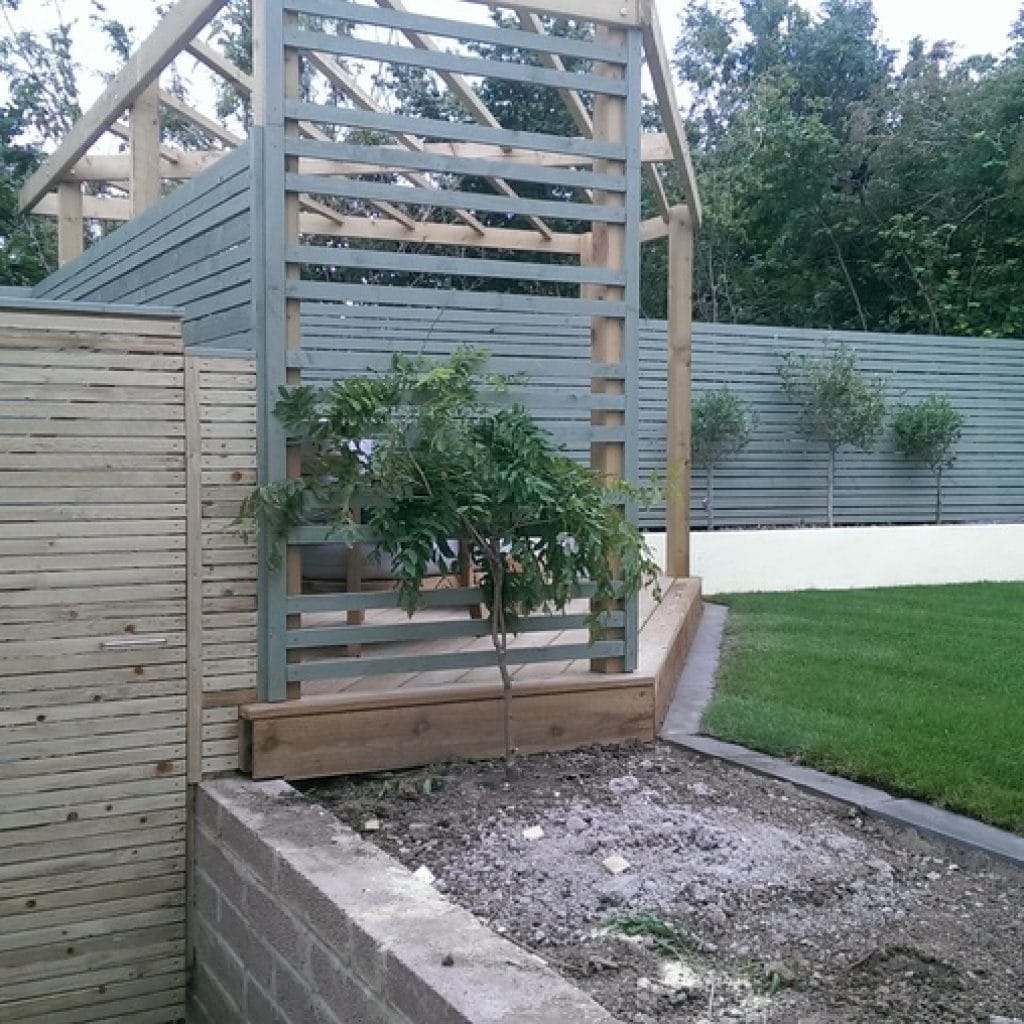 This garden makeover may not look particularly biodiverse at first glance.
However, look a little closer and notice the natural lawn, the baby wisteria poised to create a floral canopy over the pergola and the three young fruit trees against the fence.
The bed in the foreground will be planted with bee-friendly herbs and flowers. None of these features require the homeowner to be particularly skilled in gardening.
You don't need to be a horticulturist to encourage biodiversity.
Different species need different environments
Of course, when I'm designing a garden, the needs of one species predominate. Namely humans. And more specifically, the homeowner who is asking for a garden makeover.
The layout, the styling and the materials for a new garden are all designed and chosen to help humans make the most of their garden.
However, there are some little tricks to ensure that as many species as possible can share the space without impeding lifestyles.
Creating different environments within the garden
Different species like different conditions to live in or to visit. Bumblebees for example, like to hibernate beneath the shelter of a north facing fence or hedge. Frogs and toads – those incredible slug destroyers – like to have a damp, shady place to hang out on hot days. Blackbirds prefer to forage on open ground with short grass eg a lawn.
A good garden design will create several different micro-environments within the same garden. That way the number of species it serves can be maximised.
This technique works another way too – if you have a phobia for certain creatures, we can make an environment that is less likely to attract them.
After a makeover from SilverBirch Gardens.  How many species can you count in this garden?
The same garden before it's re-design. How many species? I can count 3. Grass, pot plant and dog. Biodiversity makes for a far more interesting plot.
Plants for biodiversity
Planting for biodiversity means more than simply cramming in as many plants as possible. Especially if your clients have asked for either a low maintenance garden or if they have specified a particular type or style of planting.
Encouraging biodiversity needs a 3 dimensional approach. Consider how Mother Nature approaches the problem. A walk in the woods will help, or a visit to an established garden such as Cannington Walled Gardens  just outside Bridgewater.
Picture courtesy of Cannington Walled Gardens – which is well worth a visit at any time of year. Notice the diversity in the planting.
Notice how the plants are "layered".  Starting at the top, we have the tree canopy, in the middle layer are shrubs and hedges and then, nearest to the soil are annual and perennial plants. This arrangement enables more leaves and flowers per square metre. Especially if you throw climbing plants into the mix too.
This small corner border is a fine example of layering. There is a small tree, a medium sized shrub and a selection of low growing plants.
At ground level, in nature there is normally a layer of leaf litter. In a garden, where aesthetics are more carefully controlled, we can opt for a mulch of compost, woodchips or even gravel. This mulch may not be living but it does help to support tiny creatures as well as plants.
Using a selection of plants with staggered flowering times increases the season of interest for us humans as well as for the pollinating insects.
Garden features to enhance biodiversity
Wherever possible, a garden design with biodiversity in mind will include subtle little features to encourage more creatures to visit and or stay in the garden.
Nest boxes for birds of different species and maybe even for bats
Log pile – great for minibeasts
Bug hotel for solitary bees
Wildlife pond or water feature
Compost bin
Hedgehog holes in fences and boundaries
Natural lawn for foraging blackbirds and thrushes
Lots of little hiding places so that beasts won't disturb humans and vice versa
Creating your own biodiversity garden
If you would like to improve biodiversity on your own plot AND derive a lot more pleasure from your garden, talk to Dan at SilverBirch Gardens. Dan is a garden designer who puts his clients first without putting the environment second.
Contact Dan at SilverBirch Gardens
You may also enjoy reading these articles
Top garden design ideas from the last decade