Landscaping to hide a fence
Sometimes we have to live with garden features that wouldn't be our first choice. Here are some ideas for landscaping to hide a fence.
Is your neighbours fence an eyesore? Sometimes there's just nothing you can do to change the features in your garden. You can however, change the view with a bit of imagination.  When it comes to landscaping, where there's a will, there's a way.  Let's look at some ideas for landscaping to hide a fence.
1. Add a splash of colour
Painting or staining a fence can completely change its appearance. However, only the owner of the fence may legally make any changes to it. If the fence belongs to your neighbour you MUST seek their permission before doing anything to it. That includes applying paint or preservatives, and covering the fence with climbing plants.
If in doubt, it's a good idea to contact  Citizens Advice .
2. Get imaginative with fence line design
Unless dictated by local by-laws, fences design is not restricted to larch lap panels with concrete posts.  Think outside of the box.  How about this gabion basket and cedar combo?
This is a garden fence we designed and built a couple of years ago.  If you like contemporary design, you'll love this.  Something like this could also be installed adjacent to a neighbours fence – but that would mean sacrificing some of the space in your plot.
3. Willow Hurdles for Country Charm
Change the character of your fence line by hiding it behind willow hurdles.  These bring a real rural charm to your plot and help to set the ambience of your outdoor space.  Perfect for a cottage type garden.
4. Create a distraction
If you can't change your fence, you can at least deceive your eye into not noticing it. Dramatic planting and interesting features will create a distraction so that you barely notice the fence behind them.
5. Plant a hedge
In this garden we've planted a row of young beech trees adjacent to the fence.  These will quickly grow into a nice tall hedge. Notice that the plant supports are not attached to the fence itself.
6.
 

Break your line of sight

Using the distraction principal, create a garden feature that will break up the line of sight between yourself and the fence you want to hide.

This contemporary planter contains young bamboo plants. In time, these will create a mini-hedge. But already you can see how the vertical line takes your eye away from background features.  These plants will move and sway in the breeze. Not only will this add to the visual distraction – it'll create a soft, soothing sound too.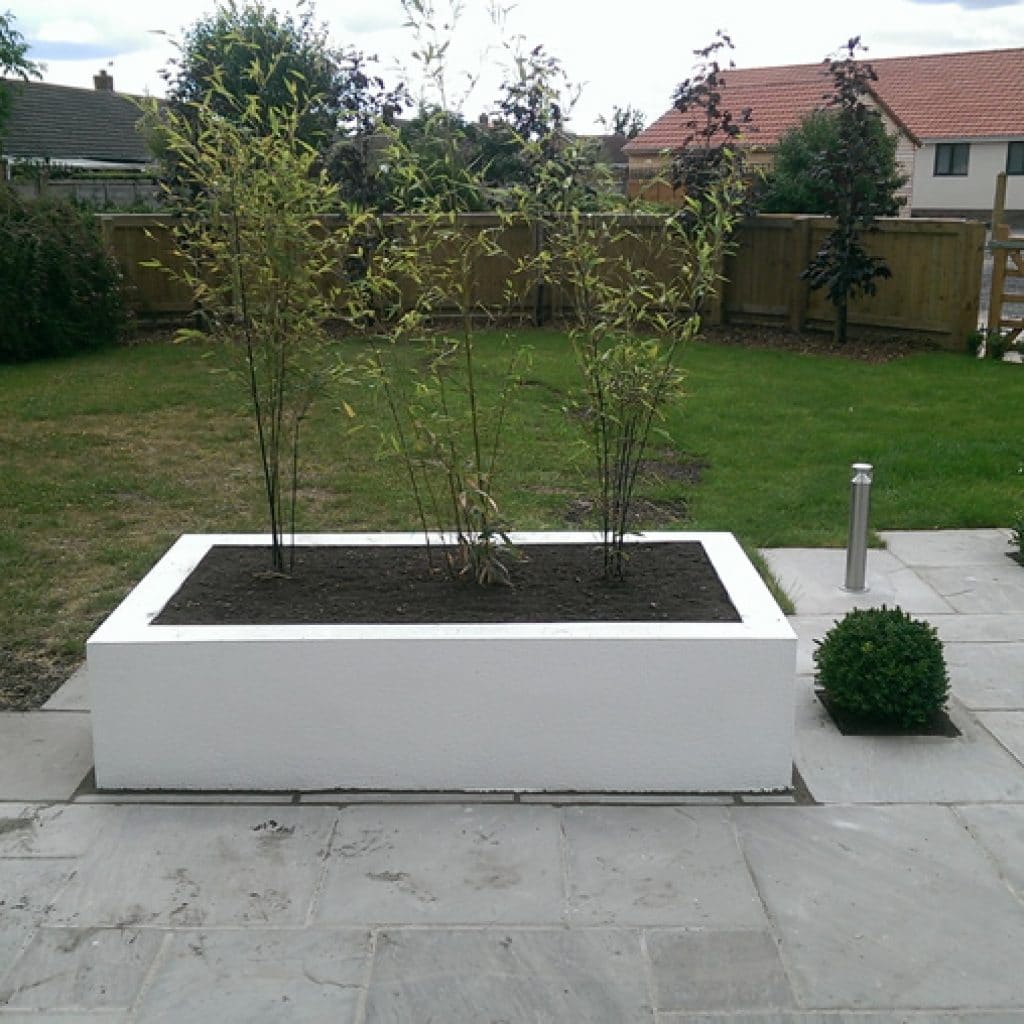 To sum up
A plain or unsightly fence needn't spoil the way you experience your garden. Using simple garden design and landscaping ideas to hide a fence can be cost effective as well as aesthetically pleasing.
In need of a garden makeover?  Contact SilverBirch Gardens for garden design and landscaping services in Bridgewater and the surrounding area.