Landscaping Ideas for Back Gardens
Here are some landscaping ideas for back gardens that will change the way you feel about your outdoor space.
With a little investment and clever garden design, your back garden can become your favourite place to be. The room without a roof can provide space for quiet contemplation outdoor entertainment, children's play and even working from home.
Lets look at some landscaping ideas to help you make more of your back garden.
Play areas for children and adults alike
A children's play area doesn't need to dominate the garden.
In this space, the youngsters have plenty of opportunity to use their imaginations. A wide lawn for games and picnics, generous planting for bug hunting and favourite play equipment tucked away where adults won't disturb their play.
This is a sloping garden – as so many in Bridgewater area are! – We've recontoured the garden to provide a sunken playground for the little ones and a secluded seating area swathed in summer planting. 
Outdoor dining and entertaining
A large, well -lit patio provides a space for entertaining friends and family as well as relaxing with a  cup of coffee and the Sunday papers.
Imagine sitting inside the lounge of this property with the bi-fold doors open – even on a rainy day you'll be able to enjoy the sounds and smells of the outdoors.
The colour of the stone has been specially chosen to co-ordinate with the flooring inside the house, giving a true outdoor-indoor lifestyle experience.
Back garden landscaping ideas for privacy
I don't know about you, but I find it impossible to relax if I feel as though I'm being watched. This client asked for a "secret garden" to be built at the side of her house. Somewhere filled with colour, scent and natural sounds and with the potential to grow food.
I designed a garden with a sturdy curved wall and a circular arrangement of raised beds. By doing so, I have created an intimate space that doesn't feel at all claustrophobic. There is a choice of seating areas so that she can follow the sun around the garden, and those beds can be filled with a mix of herbs, vegetables and flowers.
Back Garden Landscaping Idea with no grass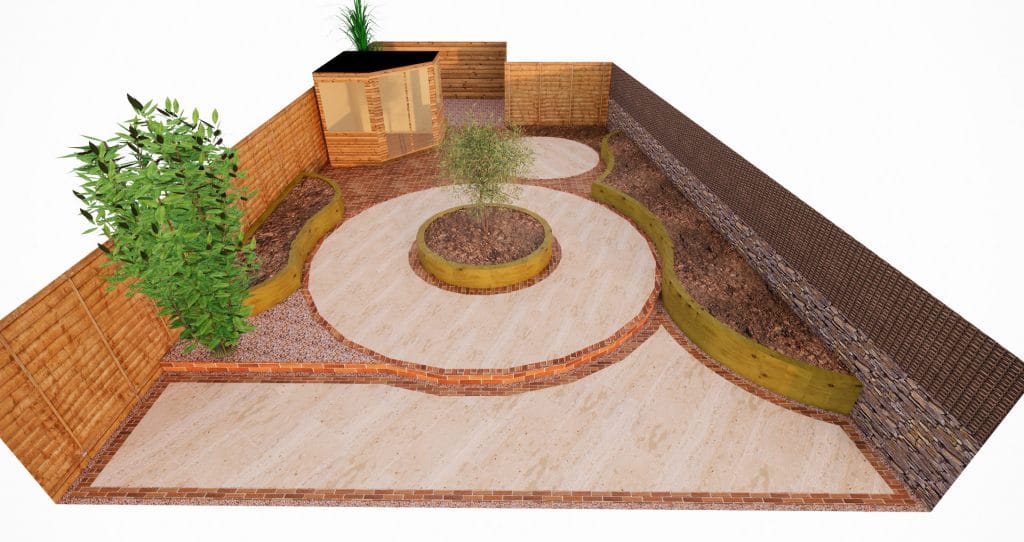 Back gardens don't need grass! It may be a traditional landscaping solution, but to maintain a good looking lawn can be quite time consuming.
This garden in North Curry has plenty of plants and visiting wildlife, but no lawn.  You can see pictures of the finished garden here.
When designing back gardens, I think it's important to think outside of the box.  There's no law that says you must have a patio by the back door, a shed at the bottom of the garden and a straight path.  Use your imagination to design a garden that you can journey around.  Give yourself options – create a garden layout that allows you to take a trip around the space. You can use the art of hide and reveal to create secret spots within your garden. Try making seating areas in different places so that you don't always look from the direction of the house towards the bottom of the garden. Sit yourself so that you can enjoy the wider view, a particular feature within the garden or perhaps the house itself.
Back garden landscaping ideas for the whole family
This is one of my favourite gardens. It has a large patio for sun loungers, a barbecue and a dining table. A curved retaining wall doubles as a raised planter and is planted up to provide a feeling of privacy. Peeping though the plants reveals a lush green lawn that leads to another curved retaining wall, more planting and then a cunningly disguised trampoline.
Need landscaping ideas for your back garden?
Take a look at some of the work carried out by Silver Birch Gardens.  
Call Dan today for an informal chat about the cost to design and build a new garden for your plot.