Patio Vs Decking – Which is Best For You?
We're looking at the patio vs decking debate with ideas to help you decide which would work best for your garden.
What Is A Patio
It might sound obvious, but if we're going to compare patio vs decking, we need to know that we're all talking about the same thing.
"Patio" is actually a Spanish word which translates to mean the courtyard of a house or building.  It can also mean schoolyard, or theatre.  
Over time, the word patio in English, has come to mean a paved area in a garden that could be used in several different ways.  Cooking, dining, relaxing or surrounding a hot tub or pool.  
A patio is normally made from slabs of natural stone, concrete, brick or porcelain tiles cemented  on to a very firm base and with a grouting or jointing compound between pavers.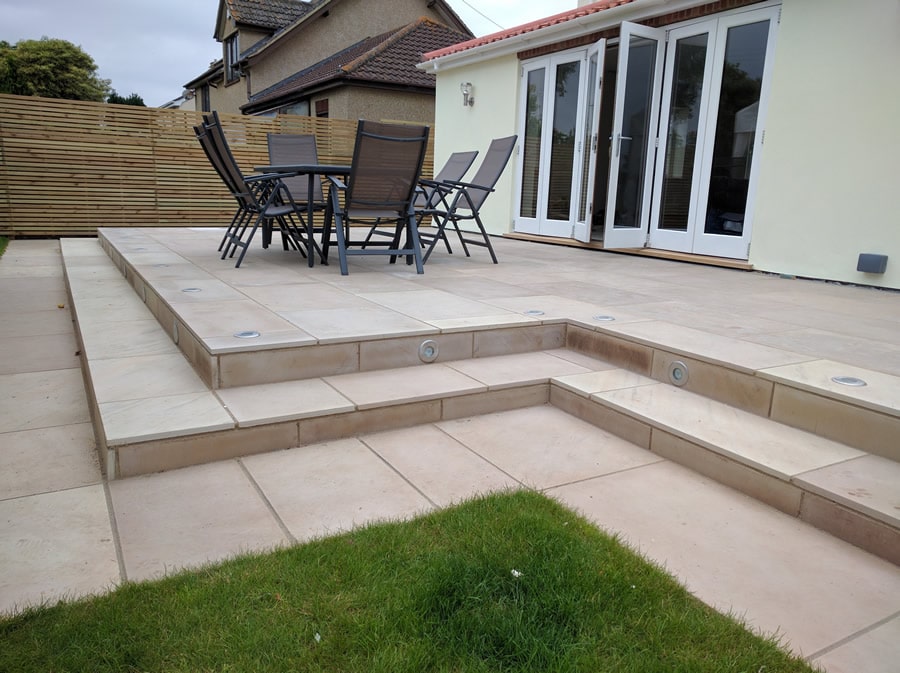 This patio has recessed lights and a small step between the house and the outdoor seating.  
In some homes it is possible to build a patio so that it is at the same level as the internal flooring for a seamless transition from indoors to outdoors
What Is A Deck?
Decking does more or less the same job as a stone patio but it is constructed using timber or composite boards fixed to a timber subframe.
The decking frame keeps the boards proud of the soil beneath and thus protects them from attack by insects and/or damp.
A fairly traditional timber built deck with a bespoke timber pergola
Patio vs Decking – Which Is The Most Cost Effective?
When it comes to counting the cost of landscaping, there are two ways of looking at it.  Cost of installation and cost of ownership.  
Cost of installation means just the price for the materials and labour to build your patio or your decking.  And you may be surprised to discover that there isn't a lot of difference between the two – at least not if you are paying a landscaper to install them for you.  Decking materials may be less expensive to buy – but building a deck is generally more time consuming than laying a patio.
Ownership costs refer to everything you might need to spend on a landscaping feature during its lifespan.  A well laid patio should need virtually no maintenance other than an occasional wash down with simple detergent.  A timber deck however may need regular treatments to keep it in good condition and extend its lifespan.
A patio – if it is laid properly – will last much longer than a timber deck.  For natural timber decking, the lifespan is usually around 15-20 years before it needs replacing.
Now is probably a good time to mention composite decking.  It looks just like timber and feels very similar underfoot, BUT it is much easier to look after and therefore has a lower cost of ownership.  
Are There Differences In The Way We Use Patios And Decks?
Both patios and decks are very versatile.  You can use them in many different ways, from cooking and eating, to sitting outside with a coffee, watching the sun go down in the evening or racing toy cars with your toddler.
I like to think that for balcony gardens and roof terraces, decking is a better choice of landscaping material.  It weighs less and the raised structure is better at facilitating drainage.
Stone setts and a timber deck complementing each other perfectly in this oriental style garden
You can add recessed lights to either patios or decks and you can include an outdoor bar and/or a pergola.  If you do your research carefully and use the correct materials, you can even build a firepit into your patio or your decking.  You do need to take special care during construction to negate the risk of either scorched slabs, burnt timber or melted composite.  Best to leave that job to your garden designer or your landscaper!
The main differences when we're talking about patio vs decking is in their looks.  Having said that – it's possible now to buy porcelain patio tiles that look just like timber. We garden designers really are spoilt for choice!
Styling Your Garden
The patio vs deck decision is more about styling than anything else.   Do you prefer the rustic charm of a deck or the luxury look and feel of a porcelain patio?
A small stone patio (just right for a fire pit) is encased by timber planters and built in seats made from decking boards which match the decking that wraps around the house.
This will look amazing with some lush planting and colourful outdoor cushions.
What sort of materials will be surrounding your new garden feature?  If your patio/deck is going to be directly adjoining your house, using a similar flooring material to the interior is a good way to create an indoor/outdoor living experience.
How about colour choices?  You have an enormous choice of colour ways and patterns when you choose natural stone or porcelain pavers. But timber tends to come in a more limited colour palette. However, you can always throw down an outdoor rug to brighten up your decking and make it feel more bohemian and cosy.
And then of course, you have the option of combining decking and paving.  It's a little more complicated to build but the effects are truly stunning.
Choosing between a patio and a deck is a very personal decision. If you need advice I'm always happy to create a 3D garden design with graphics representing either choice so that you can compare and contrast.  Get in touch today for more details.  And in the mean time, here are some images to inspire you.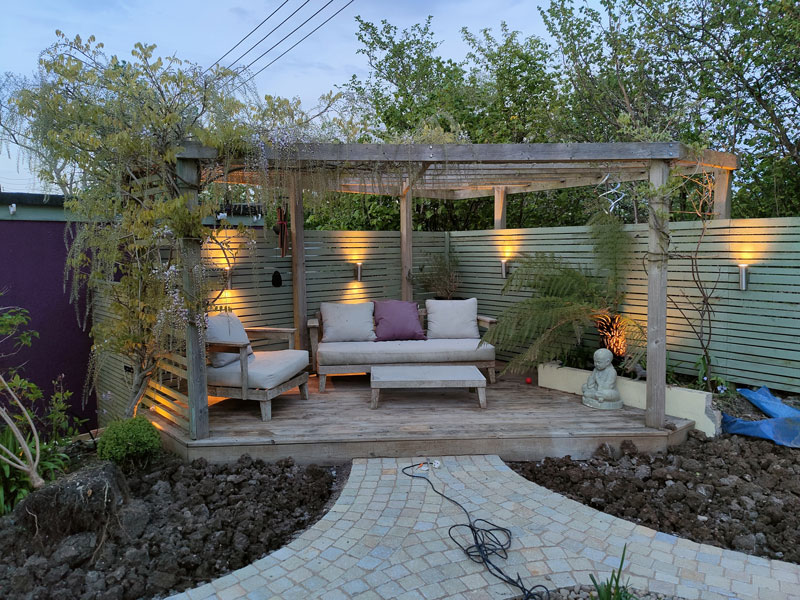 Need some more ideas to help with your patio vs decking decision?  Check out our portfolio of work