Which Patio Slabs Should I Use?
Dan guides you through the garden design decisions he makes when deciding which patio slabs to use for a project.
There are a wealth of hard landscaping materials available in the UK to suit all tastes and budgets. But which are best for your particular project? Remember, when you invest in a new patio, you will probably be living with it for a long time. So It's important to choose wisely.  
Deciding where to position your patio and how big to make it is the first stage of garden design. Next comes the styling.  Which patio slabs would be best.  The 7 things I think about before making a final decision are:
Colour
Texture
Visual impact
Materials budget
Labour budget
Ongoing maintenance
Natural vs manufactured
Current garden design trends
Let's look at each of those elements in more detail.
Which Colour Patio Slabs Do I Want?
Colour has a huge impact on our mood and can also trick the eye into thinking a space is larger or smaller than it really is.  After a few weeks of living with your new patio, the conscious part of your brain may stop 'noticing' the colour of the slabs.  However, your subconscious mind will always be very much aware of it.
The rich blend of colours in this natural stone patio pick out the hues in the brickwork of this property
So how do I choose the colour of the patio slabs for a project?
First and foremost, I think about the clients' personal taste and style.  If the interior of their home is decorated with neutral shades, clean lines and minimal clutter, then I know they are likely to be most comfortable with muted tones.  If their home has a 'cottage' feel, then natural stone or terracotta colours might suit them better.  
Next I look at the materials used to build the property itself.  Is it red brick? Sandstone? Render?  Is the roof made with terracotta tiles or slate? What colours are the doors and window frames?  There's nothing worse than having a slight mismatch in colour between the patio and the adjacent building.  Imagine pristine white door frames with an off-white stone – yuck!  Either choose a strong contrast or a good match.
Finally I consider the style of the garden.  Is it to be a cottage garden? A mediterranean garden? Or something more contemporary.  What colour are the other elements in the space?  Retaining walls, fences, structures, planters – etc.  Do I want stone to be completely monochrome, or would some natural veining or the odd fossil make it more interesting?
This will usually narrow down my choices nicely so that I can start gathering samples and thinking about textures and laying patterns. 
By the way, it's always OK to mix and match different coloured surfaces to create visual impact.  You could, for example, create a cream patio with soft grey inserts. Or use terracotta clay pavers to edge an area of buff coloured stone. Try to stick to the 'rule of 3' and keep the colours simple – if your patio is too 'busy', it can be quite hard on the eye.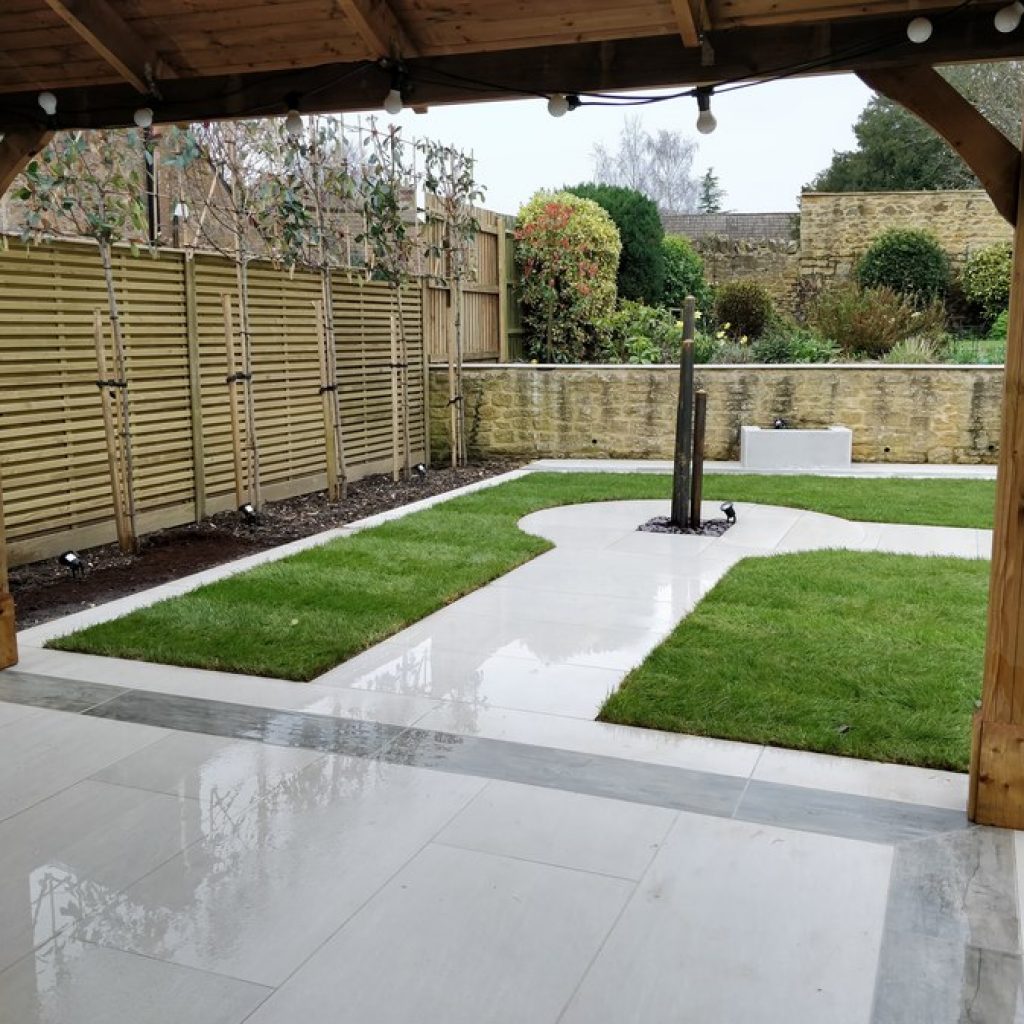 In this porcelain paving project we've used contrasting colours to accentuate the shape of the pergola and to break up what would otherwise be a large expanse of white
Texture
When you go to buy natural stone patio slabs, you will most likely be asked whether you want sawn or riven stone? Those terms refer to the way the raw rock has been shaped into pavers.  Riven means that the stone has been split into layers, this gives quite a nice look and feel to the pavers but they won't be 100% smooth.  Sawn means they have been shaped with a giant saw.  Then there is bush hammered – quite a pretty effect where the surface of the stone is dimpled to make it interesting and slip resistant.  Ask to see samples of each.
Porcelain pavers normally have an even surface that has been carefully engineered to look smooth without being slippery.
You can also create texture by carefully arranging your patio slabs.  Laying pattern is important, it can lead your eye towards various features in the garden and it certainly helps to break up large areas of hard landscaping, making them feel less imposing and helping them to blend into the surroundings.
This natural stone patio has a riven surface which offers a little bit of texture, but look how we've used different shapes and sizes to create lots of interest
Try if you can to consider all of the textures in and around the garden before you make your final choice.  Would a shiny porcelain patio look good next to a traditional style property?  This is where 3D garden design really helps you to test out ideas before you buy your patio slabs.  
Tip: Using a contrasting coloured grouting between the pavers can also have an interesting effect on how your eye perceives texture.
Visual Impact aka Share Of Attention
How important are the patios, paths and seating areas in your garden compared to all of the other features? What do you want people to notice first when they step into your garden?  
Human brains have their limitations – they just can't take in a lot of information all at once.  So if you want your patio to hog all of the attention – choose some amazing slabs.  If, on the other hand, you would rather people's eye be drawn to your comfy outdoor sofa's or your amazing planters, go for something more subtle.  Remember you can always use lighting to change the focus of attention after dark.
This part of the garden is mainly paved. We've used a very simple laying pattern with subtle colours so that your eye is naturally drawn to the furniture and the lighting rather than to the floor.
Budget
Budget, urgh! Nobody likes talking about money but let's face it, you don't get anything for free these days.
When you are having your garden designed and built, you will doubtless have an idea of what you plan to spend on the project.  Let your garden designer know that figure right from the get-go.
You see, nipping down to B&Q and pricing up patio slabs will not give you an accurate idea of the project costs.  You also need to consider labour costs to dig out and prepare the area, all of the materials that sit beneath the patio to keep it sturdy, safe and level. As well as primers, grouts, sealers, power saw blades, light fittings and, of course, expertise.
Some types of patio slabs take longer to lay than others.  Clay pavers and setts are very pretty and in some cases cost less to buy than paving slabs – but they are more labour intensive and that will affect your budget.
Your garden designer will have a good understanding of what it will cost to install the hard landscaping features in your garden. He or she can design a garden that can be built within your budget.
Ditto for landscapers – very often a landscaper will quote for the entire job, without breaking down the costs. That's because an experienced tradesman will know within a little what the job's overheads will be.  
A complex pattern like this one may involve a little more labour than a straight forward paved area – but it's well worth the investment.
Ongoing Maintenance
Having narrowed down your choice of patio slabs according to colour, texture and budget, it's time to think about the future.  Every single thing we surround ourselves with needs maintenance to keep it looking good and working well..  Your car needs valetting from time to time, your carpets need hoovering, your lawn needs mowing and your patio will need maintenance too.
Some types of patio slabs are more absorbent than others. Which means that they can be prone to staining.  Will you avoid those slabs or will you factor in the cost of sealing them before they are laid? 
A properly installed patio shouldn't need to be re-grouted for 20+ years, so investing in a good landscaper will negate that side of things.  But your stone will get dusty and need the occasional sweep over with a stiff broom.  
Ask your landscaper or your materials supplier about maintenance BEFORE you buy your patio slabs.
This beautiful rainbow sandstone looks amazing all year round and it positively sparkles after a shower of rain. Great value for money as every paver is unique.
Garden Design Trends
If I'm honest, current garden design trends are the last thing on my mind when I'm designing a garden.  I like aim for a truly original design tailored to the customer's tastes, the property itself and with a little bit of myself thrown into the mix.
When you are picking patio slabs, you may be swayed to think about what's trending. But if you do that, there's a risk that your garden will look dated in 10 years time.  For hard landscaping features that will outlive you – think about what YOU like.  A well designed garden will adapt beautifully to different 'dressings'. So you can easily change your garden furniture or your planting if you want a new look.
Which Patio Slabs Will You Choose?
Take a look at my portfolio of work for some inspirational hard landscaping ideas. Or even better, get in touch today for a garden design consultation.
Discover how 3D garden design could help you choose patio slabs